Trade in the stock market can only occur during a specific time interval in India.
Retail customers can carry out transactions through a brokerage agency between 9:15 am and 3:30 pm on weekdays.
Most traders undertake buying/selling of securities listed on the major stock exchanges in India, like the Bombay Stock Exchange (BSE) and the National Stock Exchange (NSE).
The stock market timings are the same for both these major stock exchanges. Trading is not permitted on weekends.
BSE Stock Market Timings
Bombay Stock Exchange is Asia's first and India's largest and oldest stock exchange.
In 1875 it was established as the Native Share and Stock Brokers Association.
More than 6000 companies are enlisted in BSE. It facilitates trade in mutual funds, currencies, equities and debt instruments.
In addition, it extends some actual capital trading like risk management and investor education.
| | |
| --- | --- |
|  Days | Timings  |
| Monday to Friday | 9:15 am to 3:30 pm |
BSE is closed on Saturdays and Sundays and all holidays declared by the Exchange in advance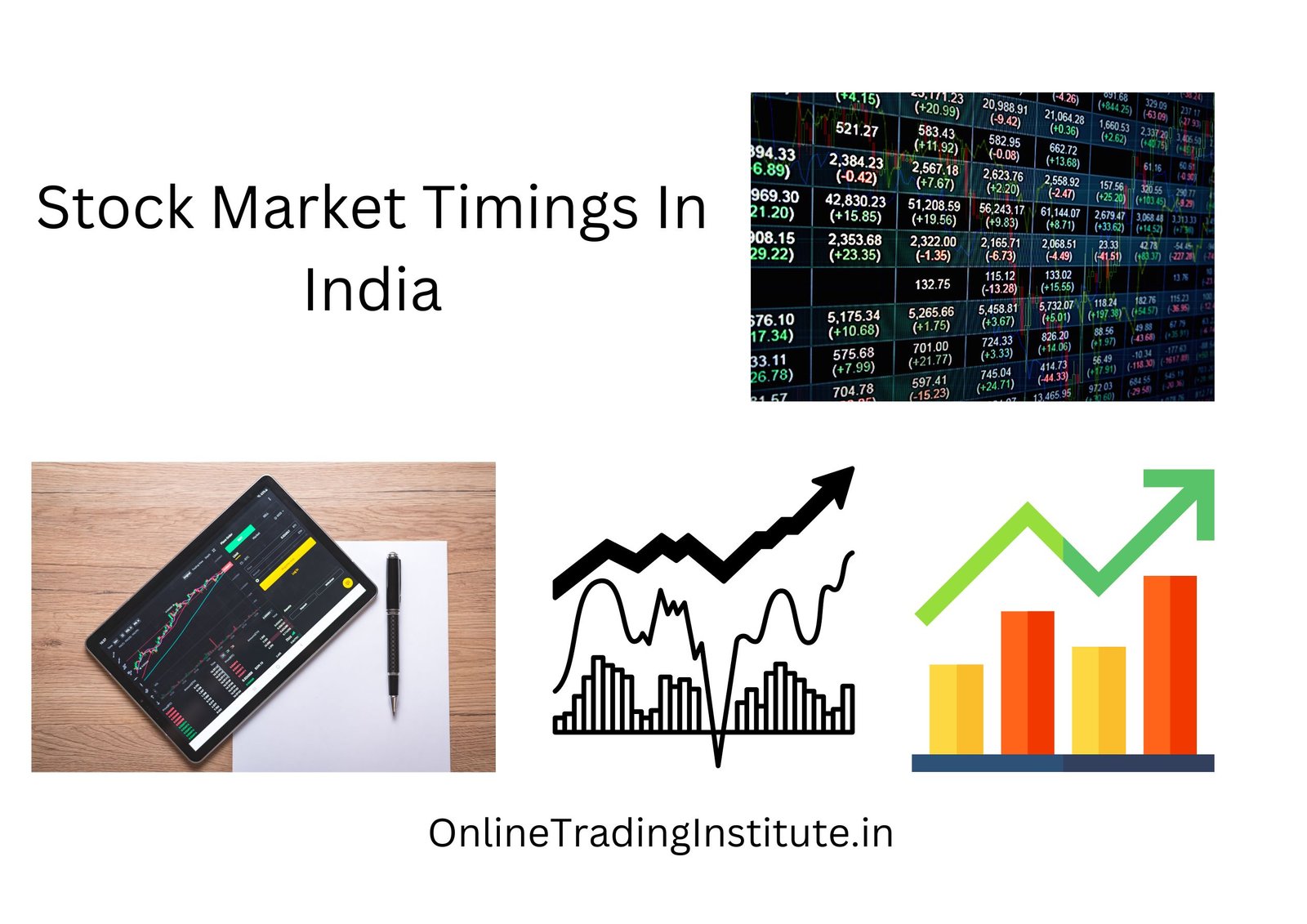 NSE Stock Market Timings
National Stock Exchange Limited of India was constituted in 1992, and trading commenced in 1994.
It is India's largest financial market. It is ranked 4th based on equity trading volume and has now developed into a sophisticated market.
| | |
| --- | --- |
| Days        | Timings  |
| Monday to Friday | 9:15 am to 3:30 pm |
Traders cannot trade on Saturdays and Sundays & all holidays declared by the Exchange in advance.
Indian Stock Market Timings
Trading in the Indian Stock Market is available for a defined period. With the help of Demat accounts registered with a depository participant, trade investors and traders traded during this time.
For various activities related to trading, the time slot gets divided into three categories:
⇒ Pre-opening Session 
This session starts before the market opens. The session lasts from 9:00 am to 9:15 am. Orders to purchase or sell securities are placed during this time. It is further classified into three sessions:
During this time market starts to work. In these 8 minutes, the traders place orders for any transaction in the equity segment. Orders placed in this segment get preferential treatment during execution.
These orders get cleared off in the very beginning. The charges can be cancelled or altered in this slot. No alteration is permitted after this slot gets concluded.
This slot in the Indian share market is responsible for the price determination of security.
Price matching order is done by corresponding demand and supply prices to ensure accurate transactions among investors who want to purchase or sell a security, respectively. Negotiating final prices at which trading will begin during expected Indian stock market timing is done through a multilateral order matching system. I
n an average session of Indian stock market timing, price matching order plays a crucial role in determining the price at which the security is transacted. However, the benefits of modifying any order already placed are unavailable during this session.
This is a transition period between pre-opening and expected Indian share market timing. Therefore, no additional orders for transactions can be placed during this time. Also, existing bets placed from 9.08 am – 9.12 am cannot be revoked.
⇒ Normal Session 
This is the primary Indian share market timing, from 9.15 am to 3.30 pm. Every transaction during this time follows a bilateral order matching system, wherein price determination is done through demand and supply forces.
The bilateral order matching system is volatile, thereby inducing several market fluctuations, ultimately reflected in security prices. Therefore, the multi-order plan was formulated for the pre-opening session to control this volatility and was incorporated into Indian stock market timings.
⇒ Post-closing Session 
Stock market closing time in India is marked at 3.30 pm. No exchange takes place after this period. However, the closing price is determined during this time, which significantly affects the following day's opening security price.
Stock market closing time in India can be divided into two sessions –
The closing price is calculated using a weighted average of prices at securities trading from 3 pm – 3.30 pm in a stock exchange. For determining the closing prices of benchmark and sector indices such as Nifty, Sensex, S&P Auto, etc., weighted average prices of listed securities are considered.
This period is the post-stock market closing time when bids for the following day's trade can be placed. Bids placed during this time are confirmed, provided adequate buyers and sellers are present in the market. These transactions are completed at a stipulated price, irrespective of changes in the opening market price.
Thus, capital gains can be realised if the opening price exceeds the closing price by an investor who has already placed their bids. If the closing price exceeds the opening share price, bids can be cancelled during the narrow window of 9.00 am – 9.08 am.
The following table can demonstrate the overall stock market operating time in India:
| | | |
| --- | --- | --- |
| Sr.no | Session | Timings |
| 1. | Pre-opening session | 9.00 am – 9.15 am. |
| 2. | Normal session | 9.15 am – 3.30 pm. |
| 3. | Closing session | 3.30 pm – 4.00 pm. |
Aftermarket Orders
No transactions can take place after this time frame. However, investors can place aftermarket orders for securities of chosen companies, which would be allocated at the opening market price the following day.
What is Muhurat Trading?
The Indian stock market is officially closed for any transactions on Diwali, as it is a religious festival celebrated all across the country. However, the market opens for an hour annually on account of Diwali. This year, on October 24, 2022, a one-hour trading session was conducted from 6.15 pm to 7.15 pm, which was considered auspicious.
---
FAQS
Q. Can I buy shares after 3.30 pm?
Answer: Yes, if you want to trade in equity, the after hours trading takes place from 3:45 PM to 8:59 AM for BSE.
Q. Can I buy stock at 9 am?
Answer: 9:00 AM to 9:15 AM is pre-opening market session. You can buy stock between 9:15 AM to 3:30 PM.
Q. Is Indian stock market open tomorrow?
Yes, Indian stock market is open on all weekdays except weekends (Saturday + Sunday) and pre-decided holidays.
Q. Can I buy share at 9 pm?
Answer :  The overnight trading hours  for equity trading are from 3:45 p.m. to 8:59 a.m. for BSE. And, the overnight trading hours for NSE are from 3:45 p.m. to 8:57 a.m.
Q. When does stock market open in India?
Answer : The stock market opens in India at 9:00 am.
Q. Is Indian Stock Market open today?
Both NSE and BSE are open on all weekdays except weekends (Saturday + Sunday) and decided national holidays. Check the holiday timetable here.
Q. What is the correct time to buy shares?
Answer : The first hour of each trading day is the best to time to buy shares as that's when biggest market moves happen.
We hope that all your queries regarding the Indian Stock Market have been answered. If you liked the article, please share it with your friends. Subscribe to OnlineTradingInstitute.in and stay tuned for more updates.