Religare Online Review : Equity, Derivative Trading, Currency Trading, Mutual Funds
Religare Online is subsidiary of Religare Enterprises Limited. It was launched as full service stockbroker in the year 1986. Religare online serves 8,00, 000 lakh clients with presence in more than 500 locations in the country.
It has a membership with BSE, NSE, MCX-SX, and USE. With these memberships the broker allows its clients to trade and invest across multiple trading products.
Since it's a full-service broker, the clients are assigned with a dedicated account manager who takes care of the client's investments, guides them according to their risk appetite, total capital to be invested and the overall investment horizon.
It is also a depository participant with CDSL and NSDL. Religare Online Limited also offers some unique services such as TIN & PAN facilitation at select branches and works as NSDL-appointed enrollment agency for Aadhar UID as well.
Traders can trade in the following market segments
Equity
Derivative Trading
Currency Trading
Commodity Trading
Mutual Funds
NCDs
IPOs
NRI Demat Account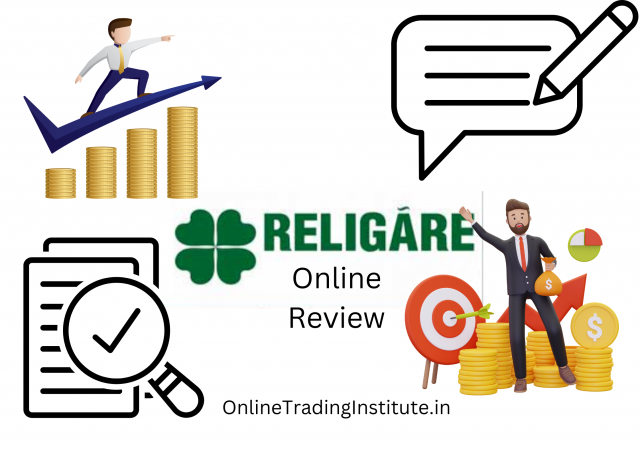 Religare Online Trading Platforms
Religare Online provides a set of trading applications to its clients so that they can perform trade across different indices.
Religare Online Web
Religare Online is browser based trading platform where the clients can just log in and proceed to trade from any Desktop or Laptop without any installation required.
Market Watch
Customised Lists
High Speed and real-time quotes and trending charts
The flexibility of trading from anywhere.
Intraday data for the last 10 days and historical data for last 5 years available.
Religare Trade On The Go
Trade on the go is a mobile app from Religare that allows its customers to trade through their mobile phones. The app is available on Android and IOS platforms.  Users can download a file on their blackberry.
Order placement from anywhere
Live quotes streaming customized as per internet bandwidth.
Personalised Market Watch
The app allows tracking of the order book, trade book, market depth, stock portfolio etc.
Advanced charting with market trends, indices and corresponding indicators.
Religare Dynami
This is another mobile-based trading application from Religare Online. The app is available in both android and IOS versions with simple and clear user interface. Some of the features of this mobile app include:
Allows you to trade across multiple segments such as Equity, Commodity and Currency.
Provision to add various watchlists
Customisation and personalization allowed along with alerts and notifications set up.
Single swipe order placement feature.
Equity Odin Diet Application
Odin Diet application is an executable file that can be installed on desktop or laptop. The application works at high speed. Some of the useful features of the application are :
Allows to Trade in equities, currency, commodities, mutual fund, IPOs
Advanced portfolio tracker and live market watch.
It has a feature called stock screener.
Religare Online Account Types
Religare securities offers its customer to choose from a wide range of financial services through its sophisticated and customized trading platform called R-ACE accounts available to investors.
R-Ace (Basic)
R-Ace (Religare Advanced Client Engine) is a basic online trading account provided by Religare. The software doesn't required to be installed on the system. Customers can get information about their account both online as well as through phone calls.
R-Ace Lite (Advanced)
R-Ace lite is advanced trading platform which provides all the features as provided by R-Ace (Basic) Account. Moreover, it also provides real-time streaming stock quotes and alerts. This account comes with a browser based online trading platform.
R-Ace Pro (Professional)
This account is meant for high volume professional traders. In addition to the features mentioned above, it also comes with a trading terminal software which needs to be installed on your computer.
This terminal directly connects the investor to the stock market and is equipped with all industry standard trading terminal features such as technical charting.
Religare Demat Account
Religare offers a 2-in-1 account, offering trading and demat account in a single bundle. For Opening a Religare demat account the user can apply online or offline. Follow all the essential steps and gather all the essential documents. The trader has to pay Rs.500 to open a trading account, while the Religare Demat Account charges are zero and the Annual maintenance charges for demat account is Rs.500.
Religare Online Research
Religare provides research at both technical and fundamental levels to its clients depending on their preferences. Religare claims that :
It covers more than 30 listed companies under its fundamental reports.
It has provided more than 150 intraday calls with a success rate of 65%.
It has more than 200 positional calls with a success rate of 61%.
Religare Online Customer Care
Religare provides the following communication channels for its customer care :
Toll-free number
Email
Offline branches
Social Media
Religare Online Account Opening Charges
| | |
| --- | --- |
| Demat Account Opening Charges | Rs.0 |
| Trading Account Opening Charges | Rs.500 |
| Demat Account Annual Maintenance Charges | Rs.300 |
| Trading Account Annual Maintenance Charges | Rs. 0 |
Religare Online Brokerage
| | |
| --- | --- |
| Equity Delivery | 0.5% |
| Equity Intraday | 0.05% |
| Equity Futures | 0.05% |
| Equity Options | Rs.70 per lot |
| Currency Futures | 0.05% |
| Currency Options | Rs.30 per lot |
| Commodity | 0.05% |
Religare Online Transaction Charges
Religare Online Charges the following transaction charges from its clients across multiple segments. These transaction charges along with the brokerage are part of the overall payment you make to your stockbroker:
| | | | | | |
| --- | --- | --- | --- | --- | --- |
| | Transaction/Turnover charges | Service Tax | Education Cess | Higher Education Cess | Sebi Charges |
| Equity Delivery | 0.00325% | 12% | 2% | 1% | Rs.20 per crore |
| Equity Intraday | 0.00325% | 12% | 2% | 1% | Rs.20 per crore |
| Equity Futures | 0.004% | 12% | 2% | 1% | Rs.20 per crore |
| Equity Options | 0.06% | 12% | 2% | 1% | Rs.20 per crore |
| Currency Futures | 0.004% | 12% | 2% | 1% | Rs.20 per crore |
| Currency Options | 0.06% | 12% | 2% | 1% | Rs.20 per crore |
| Commodity | 0.05% | 12% | 2% | 1% | Rs.20 per crore |
Religare Online Margin
| | |
| --- | --- |
| Equity | Up to 10 times Intraday, Up to 4 times delivery @interest |
| Equity Futures | Up to 3 times for intraday |
| Equity Options | Buying no leverage, shorting up to 3 times for intraday |
| Currency Futures | Up to 2 times for intraday |
| Currency Options | Buying no leverage, shorting up to 2 times for intraday |
| Commodity | Up to 3 times for Intraday |
Religare Advantages and Disadvantages
| | |
| --- | --- |
| Disadvantages | Advantages |
| Call and trade facility is charged at Rs.10 per executed order. | Amount can be transferred through cheque at the branches. |
| Manual Payment outs to your bank account. | Clients get interest on the unused cash in your account |
| Automated Trading not allowed | State of the art trading softwares across devices |
| No support for MAC Platforms | NRI Trading Provision |
Religare Rating
| | |
| --- | --- |
| Parameters | Rating |
| Trading Platforms | 6.0/10 |
| Research and Tips | 6.5/10 |
| Pricing and Brokerage | 5.0/10 |
| Customer Service | 4.0/10 |
| Exposure | 5.5/10 |
| Overall Rating | 5.4/10 |
This was the Religare Review. We hope that you found this article useful. Kindly stay tuned for more updates.
Get access to market news, updates and trends; follow our telegram channel @onlinetradinginstitute
Disclaimer: The sole purpose of our financial articles is to provide you with educational and informative content. The content in these articles does not intend any investment, financial, legal, tax, or any other advice. It should not be used as a substitute for professional advice or assistance.