Bored of trading in stocks where you have to wait for months or even years? No need to wait anymore. 
Trade for a day and earn substantial profits on your investments. Get to know about day trading and start trading for only a few hours.
Day trading is a fast-paced and thrilling trading method in which stocks are bought and sold inside the same trading day in an attempt to profit from short-term price movements. 
While the temptation of quick earnings is appealing, it's necessary to grasp all the dangers and complexities of day trading before diving in.
Follow this guide to learn about day trading and enjoy the benefits that come with it.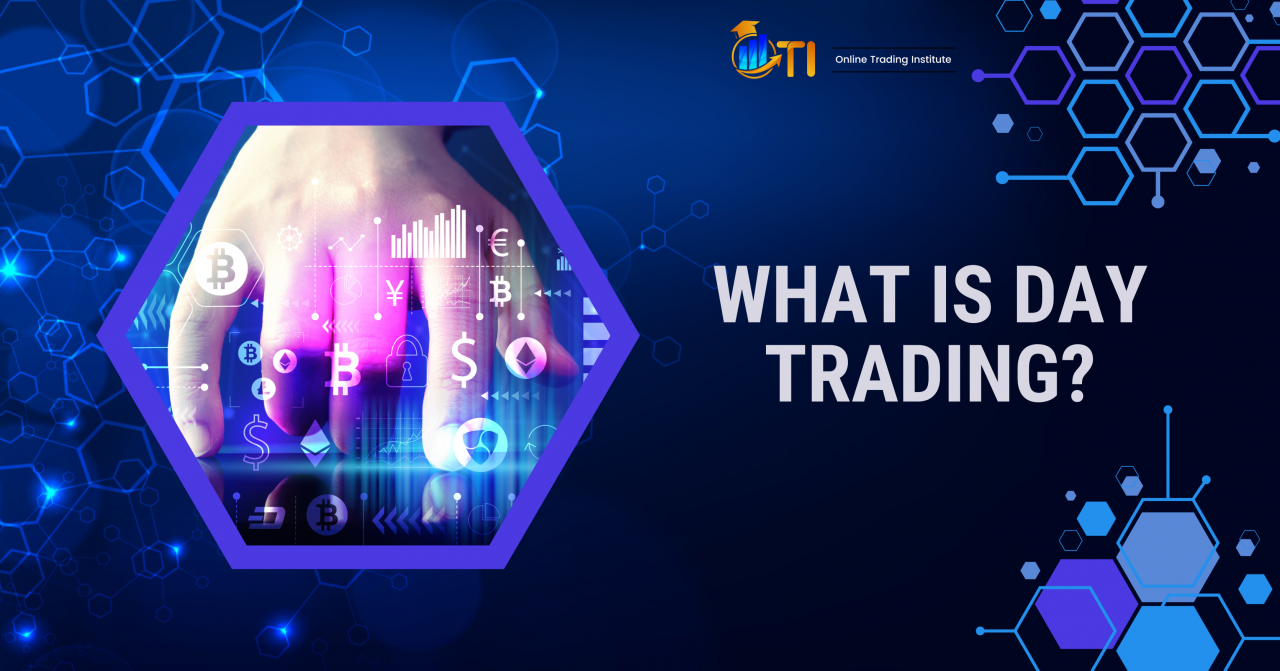 What is Day Trading?
Day trading is a highly speculative endeavour that relies on the ability to anticipate and capitalise on short-term market movements. 
Day traders use a variety of techniques and strategies to identify potential trading opportunities, often using technical analysis to study price charts, patterns, and indicators. 
They may also use fundamental analysis to assess a company's financial health and prospects, but the primary focus remains on short-term price movements.
Why is Day Trading Controversial?
Day trading has sparked much debate in the financial industry. Some claim that the activity is similar to gambling, with spontaneous decisions and a lack of long-term planning. 
Day trading's extreme volatility can result in huge financial losses, and some opponents believe it adds to market control and speculative behaviour.
Furthermore, using leverage, which is a frequent practice in day trading, magnifies both possible gains and losses, adding another layer of risk. 
The controversial nature of day trading is heightened by the impression that it draws inexperienced investors who may be unprepared for the market's complexity.
Benefits of Day Trading
Potential for Quick Profits
The potential for quick earnings is one of the key attractions of day trading. Day traders strive to profit on short-term market moves, allowing for the chance of daily gains, compared to traditional investment, which may take months or years to generate big returns.
Flexibility and Independence
Day trading allows individuals to trade from anywhere with an internet connection. This independence is especially tempting to those who cherish the ability to choose their own schedules and work from home.
Liquidity
Day traders sometimes focus on highly liquid assets, such as large equities or currency pairings, which allow them to easily enter and exit positions. Liquidity is essential for completing deals at desired prices and avoiding slippage, which is a common issue in less liquid marketplaces.
Skill Development
Successfully navigating the complexities of day trading requires the development of a number of abilities, including technical analysis, risk management, and discipline. 
The ongoing learning curve can help with personal and professional development, turning day trading into an educational adventure for individuals willing to put in the time and effort.
Risks Involved in Day Trading
High Volatility 
Due to the fast-paced nature of day trading, participants are exposed to significant levels of market volatility. Sudden market fluctuations can result in big gains, but they also carry a significant risk of loss. The emotional toll of quick market volatility may be difficult for inexperienced traders to bear.
Psychological Stress
Day trading demands quick decision-making and the capacity to properly manage stress. The pressure to make split-second decisions can be extremely exhausting, and emotional reactions can lead to rash decisions that might harm a trader's bottom line.
Overtrading
The promise of quick profits may lead day traders to overtrade, resulting in a large number of transactions in a short period of time. Overtrading can result in higher transaction costs and lower profits, highlighting the significance of discipline and strategic planning.
How to Start Day Trading?
Starting day trading is not a simple task. It will take time and great knowledge to crack it. But if you Dedicate your few days to learning day trading and give it your all you will be able to make smart, profitable and quick decisions.
It is very important to have a strong knowledge base before beginning to day trade. It is essential to comprehend technical analysis, risk management, and market dynamics.

 For aspiring day traders looking to get the required abilities, there are a variety of books, classes, and online tools at their disposal.

Day traders must have a well-defined trading strategy. This strategy should include defined entry and exit points, risk tolerance, and profit goals.

 A structured strategy reduces unplanned decision-making and promotes long-term success.
Day traders must choose a renowned and trustworthy brokerage platform. Consider aspects such as trading fees, available assets, and the trading platform's quality.

A user-friendly interface and real-time data are required for rapid trade execution.
Day Trading Strategies
Scalping
Scalping is the practice of making several little trades throughout the day in order to capture the smallest price movements. This approach is based on the accumulation of many small gains, and great traders who scalp are skilled at reacting swiftly to market changes.
Momentum Trading
Momentum trading focuses on identifying stocks or assets that have significant upward or downward price patterns. This strategy seeks to capitalise on the continuation of established trends and may employ technical indicators to validate momentum.
Breakout Trading
The goal of breakout trading is to find vital points of support and resistance. A large price movement may occur if the price of an asset breaks past certain barriers. By making bets in the direction of the breakout, breakout traders hope to profit from these changes.
Conclusion
For those who are ready to take on the challenges, day trading may be a lively and possibly profitable venture. Despite the controversies surrounding the technique, a wide range of market players are drawn to it by the advantages of rapid returns, flexibility, liquidity, and skill development. 
Aspiring day traders must, however, approach the business cautiously, understand the dangers involved, and commit time to learning and developing a strategy. 
In the constantly changing world of financial markets, day trading can open up a world of opportunity with the right knowledge, discipline, and strategic preparation.
Get access to market news, updates and trends; follow our telegram channel @onlinetradinginstitute
Disclaimer: The sole purpose of our financial articles is to provide you with educational and informative content. The content in these articles does not intend any investment, financial, legal, tax, or any other advice. It should not be used as a substitute for professional advice or assistance.