Opening a Demat account is very easy. There are a few steps you need to follow to open a Demat account. But before opening a Demat account, its important to know what a Demat account is, how it works, and what its benefits are. In this article, we will cover all these aspects.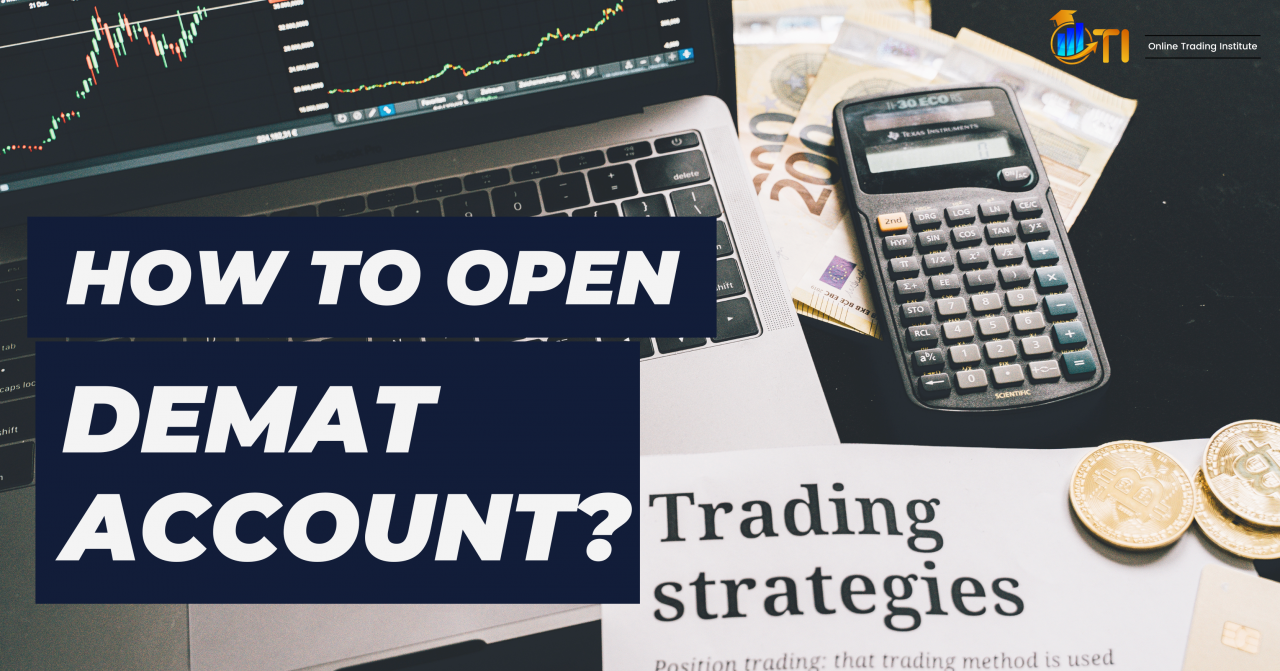 What is a Demat Account?
A demat account, also known as a dematerialized account, stores your shares and securities digitally. In 1996, SEBI introduced the demat account, which transformed the way people invest today.
Now it's essential to have a demat account to start online trading. With the establishment of demat accounts, it has become very easy to buy and sell shares online. You can hold financial securities like ETFs, mutual funds, bonds, etc., in the demat account. 
Benefits of Demat Account
Demat accounts offer many benefits to their traders. Below are the benefits you get from opening a Demat account. 
Paperless Process

: For opening a demat account, you don't need physical document, like before. Every process is done digitally and paperless. 
Easy Access

: A Demat Account will offer easy access to all your statements and investments through online banking.
Safety

: Earlier, it was common to lose, damage, or have documents stolen, but with a demat account, there's no such concern as everything is done digitally. A demat account works as a safety measure for the shares and securities, as well as the documents and personal information. 
Convenience

: Thanks to Demat accounts, trading in the markets has never been easier. Transferring shares used to be a time-consuming process that required submitting physical shares to the registrar and may have taken months. Transferring securities has become easier with a Demat account. 
Cost Efficient

: Trading used to be a time-consuming and paper-intensive procedure. But things are a lot better now. Demat accounts have increased system efficiency and lowered trading costs.
How to open a Demat account?
There is no need to step out of your home to open a Demat account; you can easily do it from your comfort zone. The entire process can be completed in 10-15 minutes. Below are the detailed steps to open a Demat account:
Search for a depository participant 
Select a DP with whom you want to open a Demat account. Before doing it, do a background check on your selected DP and also check if they provide the services you are looking for.
Provide basic information
After selecting a DP, you have to fill out an online application form to open a demat account. Fill in your basic details in the form, like your name, address, phone number, email address, etc. Also, provide your PAN card details. 
Provide your bank details, like your account number, IFSC code, etc., Adding a bank account is important, as it will be used to credit the amounts payable to you, like interest and dividends. 
Upload all the required documents, your proof of address, proof of identity, and a passport size photo.
Since it is a digitised process, you can verify yourself at home itself. Just record a short video of yourself while reading your details (name, address, PAN number, etc.) and submit it. 
Your DP will provide you with the option to sign digitally using your Aadhaar linked number. It reduces paperwork and is a very convenient and secure method. 
Once you have finished all the above steps, submit your form, and your Demat account will be created within a short period of time. 
You will receive a message/e-mail, containing your Demat account number and login credentials. 
Documents Required to Open a Demat Account
It is necessary to provide documents while opening a Demat account. A document acts as proof of your identity to avoid cases of forgery and theft of identity. To open a demat account, minimal documents are required.
Submit these documents to open a Demat account: 
PAN Card

Passport-size photograph

A copy of your signature

Aadhaar card, Voter ID, Driving licence or electricity bill for proof of address

A bank statement or a copy of passbook is proof of having a bank account

Cancelled cheque

IT return or pay slip for currency or derivative market
Factors to Consider for Opening a Demat Account
Brokerage charges: Before opening a Demat account, it is advised to compare the brokerage charges, fees, and other associated costs. 
Trading platforms: Before starting, investigate the trading platform available with your broker. Make sure it has all the tools and features you need.
Customer Service: Check all the services offered by the broker. Make sure they provide timely and helpful service.
Security: Do a security check on your trading platform to keep all your funds and personal data safe.
Reputation: Do a background check on your selected broker and know his reputation in the market. Also, look for customer reviews.
Research Tool: Make sure the broker provides the research tools and analysis you need to make informed decisions.
Financial Stability: Do a thorough investigation of the financial stability of your broker to make sure they are well-capitalised and are able to meet their obligations.  
Conclusion
A Demat account is an excellent way to securely store and manage your financial investments. In today's world, it's the need for online trading. Before opening a Demat account, make sure you do all of the following things mentioned above to avoid fraud. Do a background check and a security check, and know the financial stability of the broker.
Get access to market news, updates and trends; follow our telegram channel @onlinetradinginstitute
---
FAQs
Q.1) What is Demat Account?
Demat Account is a Dematerialised account, an electronic way of storing your shares and securities online.
Q.2) How to Open Demat Account?
Steps to open a demat account:
Search for a depository participant
Provide basic information
Add bank details
Upload Documents
In-person verification
E-signature
Form Submission
Q.3) How to close a Demat Account?
Steps to close a demat account:
Download a demat account closure form.
Fill out the form correctly.
Gather all the required documents.
E-signature.
Account should be cleared of all shares.
Check if the account is in negative balance.
If yes, then clear it.
Submit the account closure form.
Disclaimer: The sole purpose of our financial articles is to provide you with educational and informative content. The content in these articles does not intend any investment, financial, legal, tax, or any other advice. It should not be used as a substitute for professional advice or assistance.