Investing in the stock market is a fascinating journey that provides numerous options. Penny stocks are frequently intriguing to people looking for high-risk, high-reward investments. 
Penny stocks might be hidden jewels waiting to be discovered in the wide range of the Indian stock market. 
In this blog post, we will explore what penny stocks are, their features, top  penny stocks as of now, look into how to invest in them, and explain the key factors to consider before entering the volatile world of penny stock investments in India.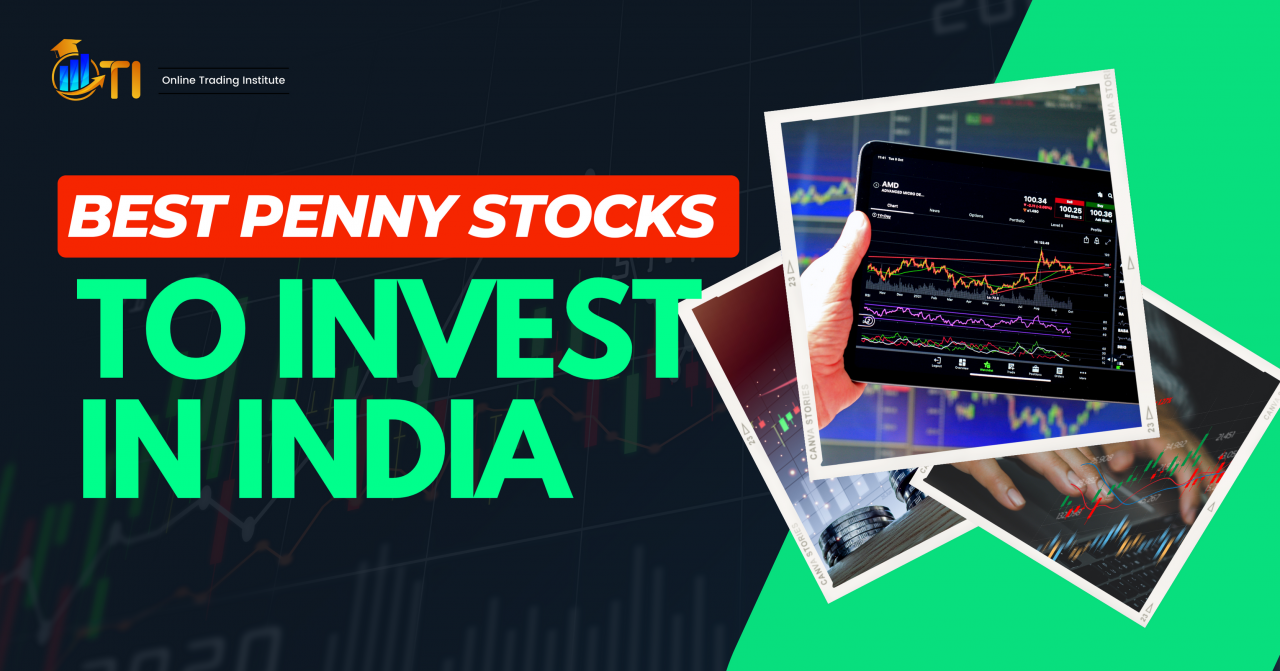 What are Penny Stocks?
Penny stocks, as the name suggests, are equities that trade at a low price, often less than Rs. 10 in India. These stocks are issued by companies with a tiny market capitalization and are frequently volatile. 
While they have the potential for big profits, they also carry a high amount of risk. Penny stocks are typically linked with smaller, fledgling enterprises due to their low prices.
Features of Penny Stocks
High Volatility
The volatility of penny stocks is one of their unique features. These stocks' prices could change drastically in a short amount of time. 
This volatility is caused by a variety of reasons, including market sentiment, firm performance, and external economic situations.
Limited Liquidity
Penny stocks sometimes suffer from a lack of liquidity. This means that trading volumes are low, making it difficult to buy or sell substantial amounts of shares without significantly affecting the stock's price.
Explosive Growth Possibility
The appealing nature of penny stocks is based on their promise for rapid growth. Because of their low prices, even a minor increase might result in significant percentage benefits. Investors seeking quick profits are drawn to this possibility for rapid growth.
Higher Risk
While the idea of big profits is appealing, it is critical to acknowledge the increased risk involved with penny stocks. The same factors that might lead to large gains can also contribute to large losses.
Best Penny Stocks to Invest in India
| | | | | |
| --- | --- | --- | --- | --- |
| Stocks | Market Capital | Sector PE | Debt to Equity | ROCE |
| Suzlon Energy | 9,018 | 26.15 | -1.18 | -2.2 |
| Reliance Power | 4,538 | 13.88 | 1.85 | 1.37 |
| Vodafone Idea | 31,155 | 5.83 | -3.08 | -5.5 |
| Alok Industries | 5,858 | 14.24 | -1.28 | -8.4 |
| Yes Bank | 46,583 | 24.73 | NA | 0.96 |
| Dish TV India | 2,890 | 2,890 | 0.4 | 57.98 |
| Morepen Lab | 1,339 | 28.59 | 0.03 | 18.74 |
| GMR Power and Urban Infra | 1,062 | 13.88 | -4.23 | 8.97 |
| Jaiprakash Power Ventures | 3,872 | 13.88 | 0.77 | 5.58 |
| Lloyds Steels Industries | 289 | 36.95 | 0 | -1.94 |
How to Invest in Penny Stocks
Extensive research
Thorough research is required before investing in penny stocks. Examine the financial health of the company, current advancements, management team, and industry trends. Proper research can help to reduce the hazards of investing in volatile penny stocks.
Diversify Your Portfolio
Because penny stocks are high-risk investments, it is essential to diversify your investment portfolio. Spreading your investments across multiple industries and stocks can help reduce the impact of a bad stock on your total portfolio.
Set realistic goals
Set specific and realistic investment objectives. Establish your risk tolerance, investment horizon, and financial goals. Because penny stocks are speculative, having a well-defined plan is essential for success.
Stay Informed
Keep up with market movements, economic statistics, and corporate news. Knowing what factors influence tiny stocks might help you make more informed investment decisions.
Factors to Consider Before Investing in Penny Stocks in India
Company Fundamentals
Examine the company's financial statements, including revenue, profitability, and debt levels. Strong fundamentals are essential for a penny stock's long-term sustainability.
Market Conditions
Take into account the general market circumstances and behaviours. Economic conditions, industry developments, and market sentiment can all have a big impact on penny stock performance.
Regulatory Environment
Understand the regulatory environment that governs the Indian stock market. Regulation changes can have a significant impact on the performance of penny stocks.
Liquidity
Examine the penny stock's liquidity. Low liquidity can make it difficult to buy or sell shares, perhaps leading to severe price changes.
Risk Tolerance
Before you invest in penny stocks, consider your risk tolerance. These stocks may not be suitable for conservative investors due to their extreme volatility.
Exit Strategy
Develop a clear exit strategy. Knowing when to quit a position is essential for risk management, whether it's a predetermined profit target or a stop-loss order.
Conclusion
Investing in penny stocks in India can be an exciting but difficult endeavour. While the prospect of huge returns is appealing, these investments should be approached with cautiousness. 
Thorough study, diversification, and a well-defined investment plan are required to navigate the uncertain waters of penny stocks. 
As with any investment, consulting with a financial advisor is recommended to adapt your investment strategy to your unique financial goals and risk tolerance.
Get access to market news, updates and trends; follow our telegram channel @onlinetradinginstitute
Disclaimer: The sole purpose of our financial articles is to provide you with educational and informative content. The content in these articles does not intend any investment, financial, legal, tax, or any other advice. It should not be used as a substitute for professional advice or assistance