NFTs or non-fungible tokens are all in the roar right now. If you follow global market news (or don't live under a rock), chances are that you have heard of NFTs. These digital tokens have made it easier for creators across the globe to sell their unique creations.
If you are creator, you can now sell your artworks to anyone through any platforms for NFT buying and selling. But can you buy and sell NFTs from India? If yes, how can you buy or sell NFTs from India? Which websites or platforms to use?
Here's how you can buy/sell or bid on any NFTs from India. Which NFT Marketplace should you use for your NFT trading? Also which NFT platform is best for creators? All that you need to know is here.
Need a quick refresher about NFTs, check out the FAQ section for all NFT Basics.
Top NFT Marketplaces for Creators to Sell NFT
1. OpenSea
OpenSea proclaims itself as the largest NFT marketplace.
The NFT Website offers a broad range of non-fungible tokens, including art, virtual worlds, trading cards, censorship-resistant domain names, sports, and even collectibles.
It includes ERC721 and ERC1155 assets. This NFT Website features over 1000 different projects, including trading card games, collectible games to digital art projects, and name systems like ENS (Ethereum Name Service).
Investors can buy, sell, and discover several dedicated digital assets like Axies, Decentraland, ENS names, CryptoKitties, and many more.
Creators can also create their own assets using OpenSea's item minting tool. You can use it to a collection and NFTs from scratch for free. You don't code a single line. If you're creating your own smart contract for a project with unique digital items on the blockchain, you can easily get added to OpenSea.
While selling items on OpenSea, you can sell it for a fixed set price, create a declining price listing, or make an auction listing.
Visit OpenSea here- Click Here

---
2. SuperRare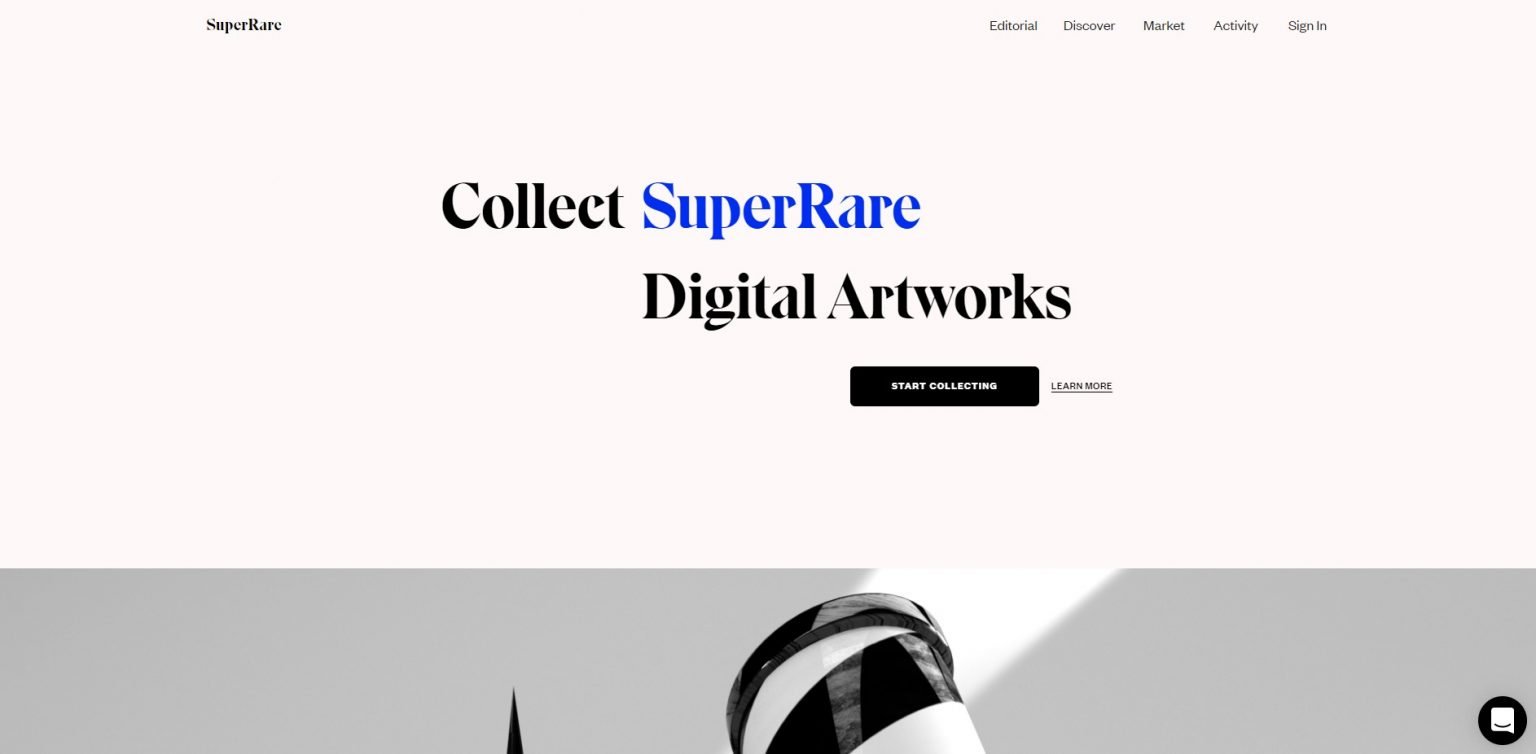 SuperRare is one of the Best NFT Marketplaces In India To Buy Your First NFT. It is a great place for people to buy and sell one of a kind, single- edition digital artworks. Each artwork is genuine, created by an artist in the network and tokenized as a digital-collectible item that you can buy and trade.
They claim to be an NFT Superstore, like Instagram meets supermarket, offering a new way to interact with art, culture, and collecting on the internet.
Each artwork on SuperRare is a crypto collectible– a digital object secured by cryptography and marked on the blockchain.
SuperRare also has a social network on top of the marketplace. All transactions in the Marketplace are placed using ether, the cryptocurrency of the Ethereum network.
At the moment, SuperRare works with a limited number of chosen artists; however, you can submit your artist profile to get on their list for their upcoming full launch.
Visit SuperRare here- Click Here

---
3. Foundation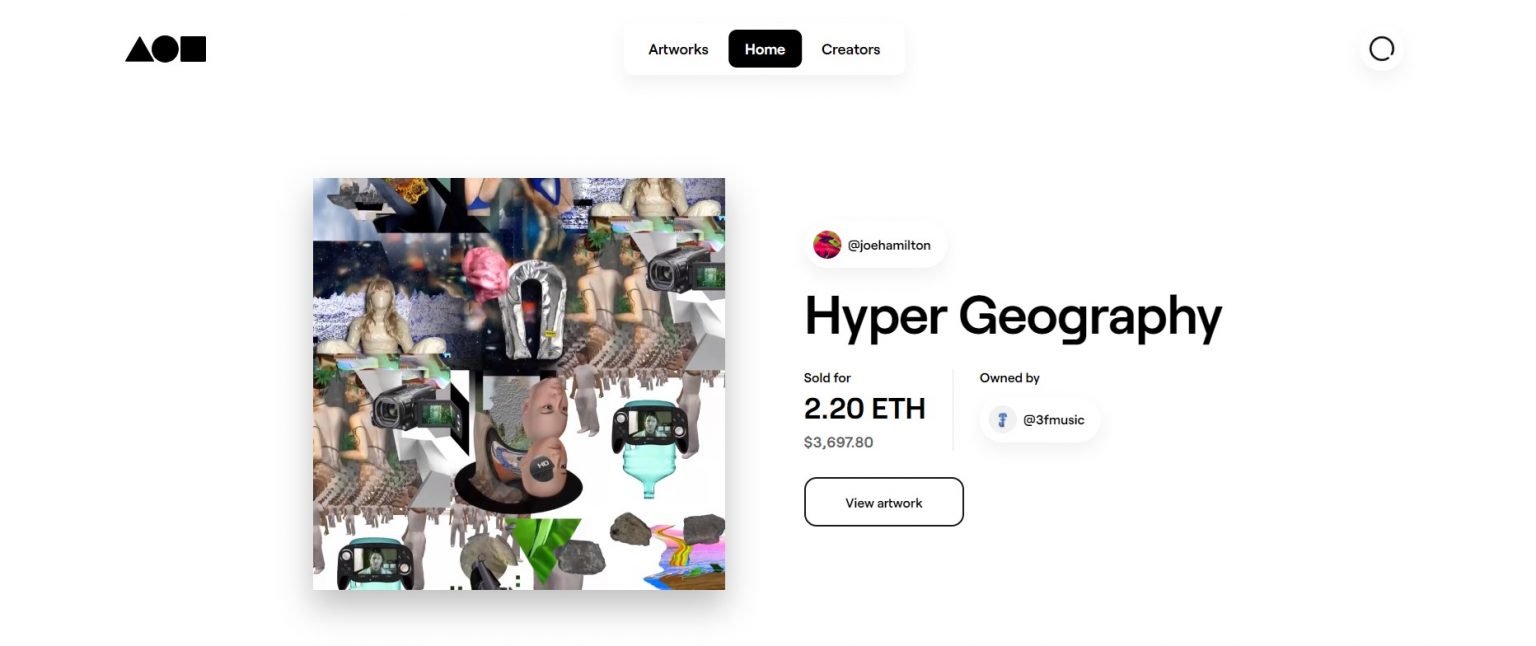 Foundation is a unique platform designed to bring digital creators, collectors and crypto veterans together. They calls themselves the new creative economy due to it its primary focus being digital art.
The Digital Artwork NFT website in August 2020 announced an open call for creators to experiment with crypto and play with the concept of value. They invited creators through a blog post to "hack, subvert, and manipulate the value of creative work."
One can say that Foundation's USP is that whenever an NFT is sold on Foundation, the artist makes 10% even on secondary transactions. Simply put, the artist receives 10% of the sales value any time a collector re-sells their artwork to someone else for a higher bid price.
Visit Foundation here- Click Here

---
4. Rarible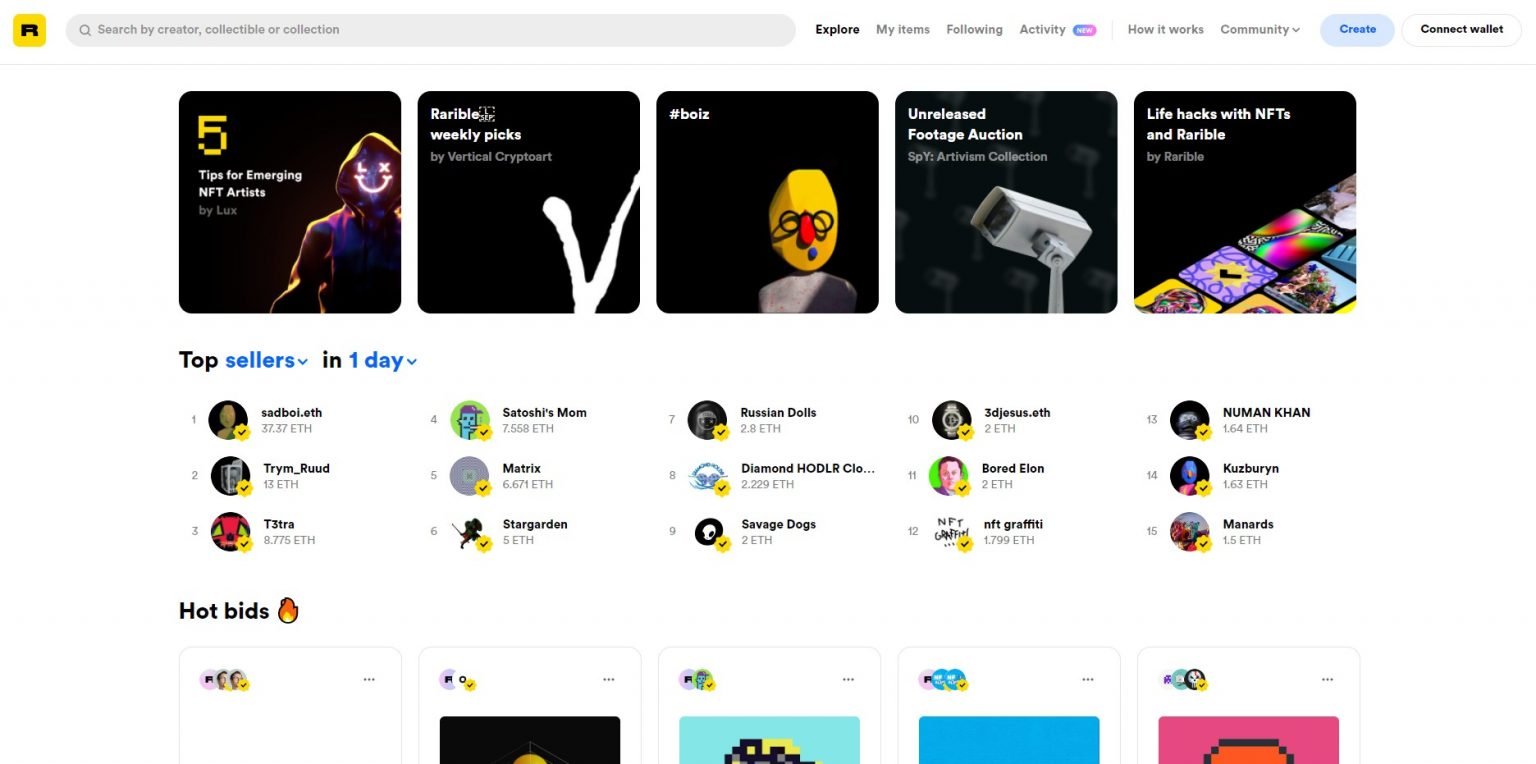 Rarible is a community-owned NFT marketplace. The "owners" hold the ERC-20 RARI token. Rarible gifts the RARI token to its active users on the platform every week. This is calculated by your activity on the NFT Platform. It distributes 75,000 RARI every week for users who buy or sell on this Art NFT marketplace.
The platform has a special focus on art assets. You can use Rarible to "mint" new NFTs. You can sell even books, music albums, digital art, or movies on the Rar. The creator can even show a sneak peek of their creation to everybody who comes to Rarible but limit the full project to the purchaser.
Rarible buys and sells NFTs in categories like art, photography, games, metaverses, music, domains, memes, and more.
Visit Rarible here- Click Here

---
5. Nifty Gateway

Nifty Gateway is one of the largest NFT marketplaces in the world. The NFT Website has sold artworks from digital artists and celebrities like Beeple, Daniel Arsham, Grimes and Pak.
The platform is managed by Gemini, a secure (& regulated) crypto exchange, and is considered a high-end NFT marketplace due to its collaboration with popular influencers and brands.
One of the things that make Nifty Gateway so popular is that it allows creators to receive a percentage of post market sales. So, you will receive a cut from the sales whenever someone purchases your NFT.
Another great feature is that Nifty Gateway has "open editions," which allow creators to mint unlimited editions of their works for a limited time.
Additionally, Nifty Gateway has additional perks like technical assistance, multiple payment methods including fiat currency etc.
Unlike most major NFT marketplaces, Nifty Gateway hosts the NFTs they acquire. This means that the NFTs you trade aren't stored in your wallet. Instead, they're stored in your Nifty account.
Visit Nifty Gateway here- Click Here

---
6. Atomic Market
AtomicMarket is a shared liquidity NFT market smart contract that is used by multiple websites. Shared liquidity means that everything listed on one market also shows on all other markets.
It is a marketplace for Atomic Assets, a standard for non-fungible tokens on the eosio blockchain technology. Any one can use the Atomic Asset standard to tokenize and create digital assets and buy, sell and auction assets on the Atomic Assets marketplace.
You can list your own NFTs for sale on the AtomicMarket, or you can browse existing listings. NFTs of famous collections get a verification mark,
which makes it simpler to spot the real NFTs. Malicious collections are blacklisted.
Visit Atomic Market here- Click Here

---
7. Decentraland
Decentraland is a virtual reality based world created on the Ethereum blockchain, which helps make it a safe and stable NFT marketplace. It lets users obtain virtual properties and other digital assets like property, wearables, materials, art, and even names, which are stored in smart contracts on the Ethereum blockchain system.
Apart from enabling you to purchase digital assets, Decentraland also allows you to create your own assets that you can list on the Decentraland Marketplace. You can make your own avatars and 3D scenes with its easy- to-use drag-and-drop Builder tool.
Decentraland has a very poignant difference from other marketplaces. The tokens are designed to have the identical value and worth as that of their real-world equivalents.
Visit Decentraland here- Click Here

---
8. KnownOrigin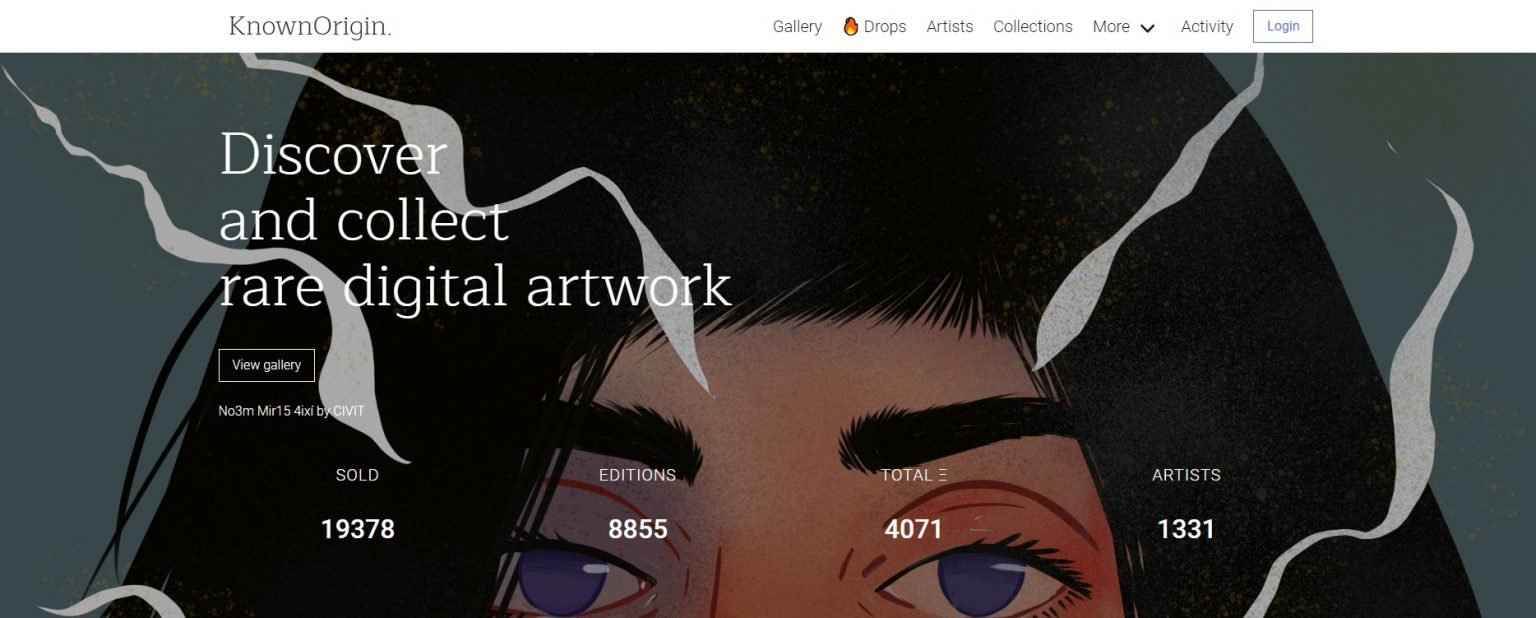 KnownOrigin is a marketplace where you can discover new creators and collect rare, original digital artwork. This platform prides itself as a complete NFT Art Marketplace where every digital artwork is authentic and exclusive. Creators can use the platform to showcase and trade their work to collectors who are particular about originality. It is secured by the Ethereum blockchain.
Creators can submit artwork in jpg or Gif format to the KnownOrigin gallery, with all files on IPFS.
Visit KnownOrigin here- Click Here

---
9. Portion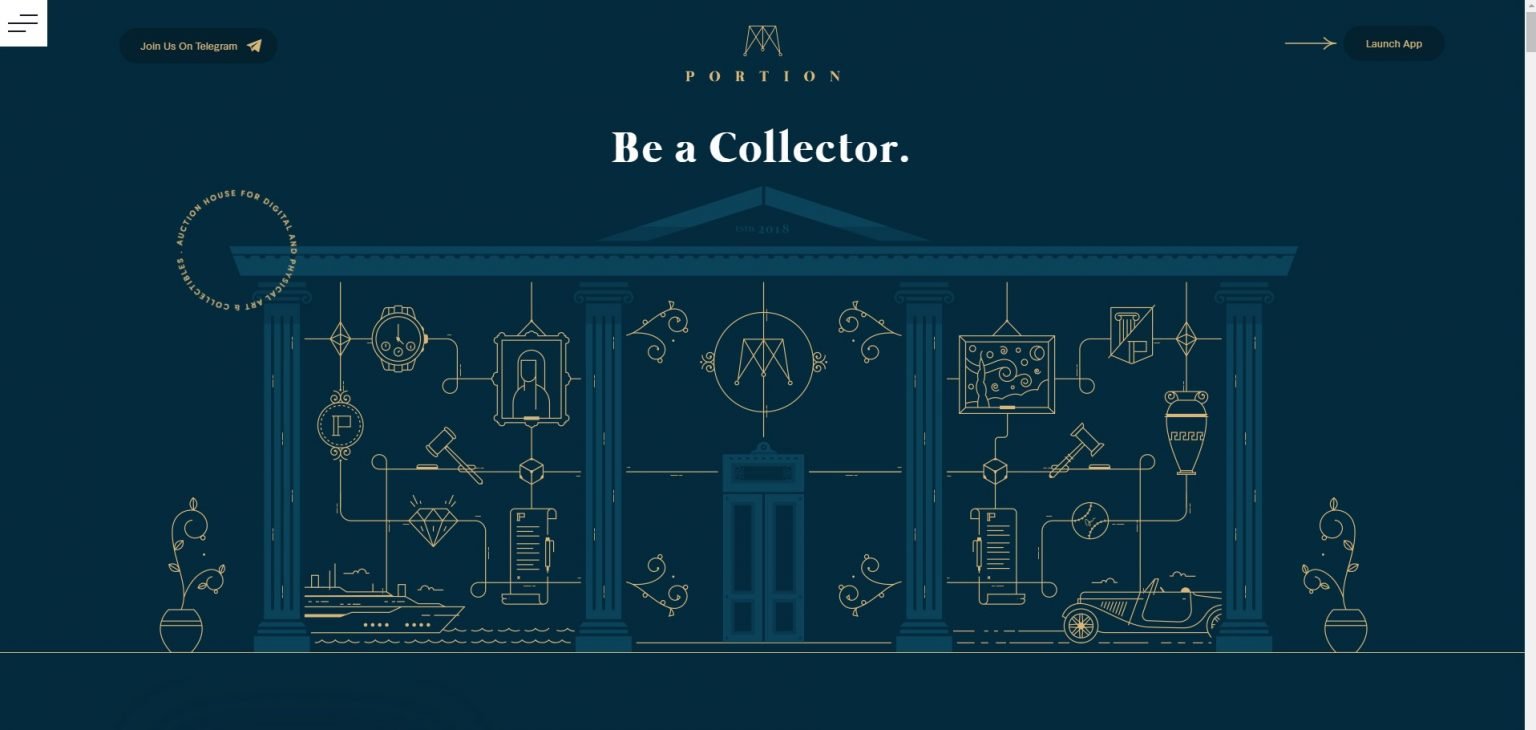 Portion is an online marketplace for artists and collectors with a completely transparent, blockchain based system for easy communication. Creators can create their NFT store in minutes on this NFT Marketplace.
Portion is a favorite of the Artist Community. The globally thriving network of decentralized artists and creators makes Portion one of the best Art NFT Websites in India.
Anyone can become a collector with Portion. You can manage your physical and digital collection all in a single location, making it simple to exchange crypto for artworks and collectibles.
Portion Tokens are based on ERC-20 assets on the Ethereum Blockchain.
New tokens are distributed for liquidity mining, artist grants, partnerships, and future team members. New Portion Tokens are also released when artists create new NFTs.
Visit Portion here- Click Here

---
10. Async Art
Async Art is a special type of NFT marketplace built on the blockchain. Creators can create, trade or collect programmable art.
Async Art is based on a special type of cumulative differences. You can buy both "Masters" and "Layers." A Master is a 100/100 edition art piece, while Layers are the individual components that make up final, Master image. Layers have special abilities as prescribed by the creator/artist.
When you alter something on a Layer, the Master image will showcase this change regardless of who owns it. Artists can choose the parameters of their art and grant exclusive control over any aspect to individual collectors. For example, the creator may let someone change the pattern in the background, the location of a character, or the color of the floor.
There has already been over $6M in bid volume on the platform and over $1.5M in artist sales (since February 2020).
Visit Async Art here- Click Here
---
11. Mintable
While being relatively new (founded in 2018), Mintable is a free mint tool and marketplace backed by a billionaire entrepreneur and investor Mark Cuban. It is modeled on the Ethereum blockchain.
Mintable hosts a variety of users like musicians, animators, artists, videographers, who can create, market, purchase, sell, and trade their digital assets. The platform lets creators use smart contracts on the blockchain so they can create assets without any coding. Creators can also turn their digital files like PDFs and MP4s into NFTs that they can distribute through their own Mintable store.
What makes Mintable so attractive to creators as well as collectors is its extensive and authentic collection of digital assets, which can range from art to games. If you're not familiar with selling NFTs, the Mintable Academy also covers topics such as how to create your own store, how to sell more items, and how to promote them and more. More and more NFT creators and collectors are choosing Mintable due to its numerous perks.
Visit Mintable here- Click Here
FAQs
Confused about a few terms? Want a simple refresher of the basics of NFTs? Here are some of your doubts cleared about NFT Marketplaces and how you can trade NFTs from India.
Question- What are NFTs or non-fungible tokens?
Answer– NFTs are unique tokens that you cannot replace with something else.
For instance, a one-of-a-kind playing card is an NFT – you can't just replace or duplicate it with another card. If you buy another card by selling yours, you have something different.
These are different from fungible items, which is mostly identical and of same value to another unit. Now for example if you swap one bitcoin for another, your position will remain the same. On the contrary, if you swap a almost-worthless, mass-produced landscape painting for "The Starry Night" by Vincent Van Gogh NFT (valued at over 17 Lakh Rupees), you've done quite well for yourself.
Most NFTs now tend to be digital. Some NFTs, for example, are digital artworks, and "digital art collector" have come up just like collectors have collected physical paintings for centuries.
NFTs have been doing considerably well for themselves. An NFT artwork by digital artist Beeple was sold for $69 million at Christie's. The NFT Marketplace is booming with opportunities, especially for creators.
Question- What is an NFT Marketplace? Which is the biggest NFT marketplace in India?
Answer- An NFT marketplace is the platform where users buy and sell NFTs. Consider it like an eCommerce marketplace except for the fact that the users trade digital assets here instead of physical commodities. New NFT marketplaces sprout up on a daily basis.
OpenSea is the considered to be the first and one of the best NFT marketplaces. It was founded back in 2017 and crowned itself as the leader of the NFT economy when the market skyrocketed back in 2020.
Question- Do I need cryptocurrency to buy/sell NFTs? How are they linked?
Answer- In many ways, NFTs are similar to Bitcoins and other cryptocurrencies. Of course the key difference being, they are non-fungible and non-divisible. The similarity being both are based on the blockchain system.
But the underlying blockchain technology behind particular NFTs differs, so not all NFT marketplaces buy and sell all types of NFT.
Most NFT platforms require buyers to have a digital wallet and use cryptocurrencies to pay for their purchases. So yes, you can trade in NFTs with cryptocurrencies.
Creators often select their preferred NFT marketplace based on whether that marketplace supports their chosen NFC token standard.